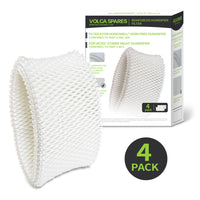 4 Pack Humidifier Wicking Filters Compatible with Honeywell HAC-504AW, Filter A
Humidifier Wicking Filters. Compatible with Honeywell HAC-504AW, Filter A. For use with cool moisture evaporative humidifiers.
Contains 2 replacement wicking humidifier filters. Removes minerals and pollutants from water.
Compatible with HCM-300 Series: HCM-300T, HCM-305T, HCM-310T, HCM-315T, HCM-35Fette Filter0, HCM-350B, HCM-350W, HCM-450BCST, HCM-500 Series: HCM-530, HCM-535, HCM-535-20, HCM-540, HCM-550, HCM-550-19, HCM-551, HCM-560.
HCM-600 Series: HCM-630, HCM-631, HCM-632, HCM-632TG, HCM-635, HCM-640BW, HCM-645, HCM-646, HCM-650, HCM-700 Series: HCM-710, HCM-1000 Series: HCM-1000, HCM-1000C, HCM-1010, HCM-2000 Series: HCM-2000C, HCM-2001, HCM-2002, HCM-2020, HCM-2050, HCM-2051, HCM2052, HEV-312, HEV-355.
Compare to part # HAC-504, HAC-504AW, HAC504V1.
Designed specifically to optimize performance and output. Two High-Quality Filters Manufactured by Volca Spares.
This is NOT a Honeywell OEM product. The Honeywell and Enviracaire brand names and logos are the registered trademarks of their respective owners. Any use of the Honeywell and Enviracaire brand names or model designations for this product are made solely for purposes of demonstrating compatibility..