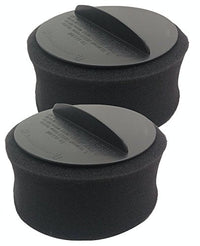 Filter Set Compatible with Bissell PowerForce & Helix Turbo Inner and Outer, OEM Part # 203-7913
Filter Set Compatible with Bissell PowerForce & Helix Turbo Inner and Outer.
Contains 2 Bissell PowerForce & Helix Turbo Inner and Outer Compatible Filter Sets
Compatible with PowerForce Helix Turbo Bagless Vacuum 68C71, 2140, 68C7, 68C7C, 68C7D, 68C7R, 68C7S, 68C7U, 68C7V, 68C7W, 68C7X, 68C7Y, 68C7Z & PowerForce Helix Bagless Upright Vacuum 1240, 1240C, 1240D, 12401, 1240R, 1240Y. PowerTrak Bagless Upright Vacuum 2083C
Compatible with PowerForce Helix Upright Bagless Vacuum 12B1, 12406, 1240U, 1240V, 1240W, 12B1C, 12B1D, 12B1E, 12B1R, 12B1U, 12B1V, 12B1W & PowerGroom Bagless Vacuum Cleaner 68C77, PowerGroom Helix Rewind Vacuum 98N4
Compare to Part # 203-7913, 2037913
Compatible with these Bissell Models:
PowerForce Helix Turbo Bagless Vacuum 68C71, 2140, 68C7, 68C7C, 68C7D, 68C7R, 68C7S, 68C7U, 68C7V, 68C7W, 68C7X, 68C7Y, 68C7Z.
PowerForce Helix Upright Bagless Vacuum 12B1, 12406, 1240U, 1240C, 1240D, 1240Y, 1240V, 1240W, 12B1C, 12B1D, 12B1E, 12B1R, 12B1U, 12B1V, 12B1W.
PowerForce Helix Bagless Upright Vacuum 1240, 12401, 1240R.
PowerGroom Bagless Vacuum Cleaner 68C77.
PowerGroom Helix Rewind Vacuum 98N4.
PowerTrak Bagless Upright Vacuum 2083C
This is not a Bissell OEM product. The Bissell brand names and logos are the registered trademarks of their respective owners. Any use of the Bissell brand name or model designations for this product are made solely for purposes of demonstrating compatibility.